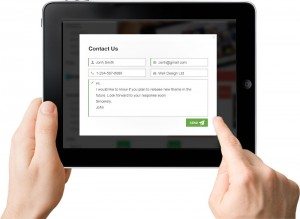 Most business owners will tell you that one of their goals is to obtain more customers in order to make more money.  Since more and more people are researching and shopping online, your website must provide a way for potential and current customers to contact you.
Here are five best practices for contact forms.
Have your Contact Form on your website under 'Contact Us'
Sounds boring but, the majority of users expect to see a Contact Us page on your website.  Create a quick and easy form for them to contact you.  The more fields and the more required fields you have will turn them off. If you need to collect more information for specific purpose in your site (eg. say Quote Request) then have a different separate form for that.  So keep your Contact Form simple.
Another great idea is to have quick contact forms on ALL pages of your website.  Make it as easy as possible for the customers to contact you.  Above is our quick contact form.  You will also see it to the right of this blog post.  We show this form on the majority of our interior pages.
Respond within 24 hours
Today's world moves at a faster pace than it did 10 years ago or even 5 years ago.  This is the age of instant gratification.  If you want the business, you need to be ready to respond quickly.  If you don't, your competitor might.
A great example is I contacted four photographers at a beach I am visiting next month.  I used the contact us form on all four sites.  I received ONE reply.  Guess who got my business?  I gave everyone one week before I went with the lady who returned my email.   See how easy it was for her to get my business – she responded.
If it is absolutely impossible for you to respond in 24 hours, use an autoresponder to inform your customers of this fact
Maybe you are a one-person office.  Set up an auto response for every contact form submission that gives an estimated time for reply.  Maybe you say they can expect a reply within 24-72 hours.  Just make sure to respond during that time frame.
Protect against bogus submissions
A necessary evil in today internet is the Capcha field. We all see and hate them, those distorted letters you have to type to prove that you are indeed an actual human and not a malicious bot bent on wasting everyone's time. The chore of shifting through bogus form responses is a pain, it can have you do the un-thinkable; put off dealing with your contact form responses. Using a "Capcha-like" tool is a very easy way to avoid having to deal with them them at all.
Have your Developer add this field to all of your mission critical site forms. The small added expense (if any) will save you tons of time and frustration later on.
Test, Test, and Test Again
Do you know if your contact form is working?  Check it yourself.  Set up a routine of completing the form once a month and make sure you (or the intended email recipient) receives it.  Contact forms that go into the internet's blackhole will never become your customers.
Provide More Than Forms
In today's age, there are multiple generations shopping.  Baby Boomers, Gen X, and Gen Y make up the largest percentage.  Each likes to shop and interact differently.  Along with a contact form consider adding:
Your telephone number
Your address
Your email address
A phone number the customer can text
Your social media links
Provide potential and current customers as many ways as possible to contact you.  Then be sure you are checking and responding in a timely manner.